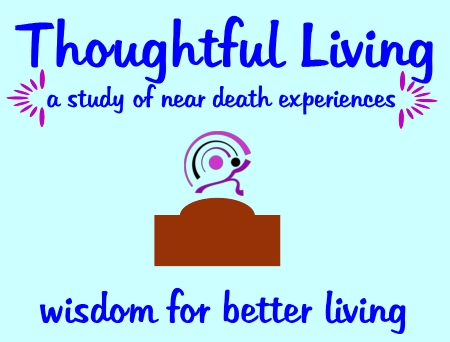 This web site provides Near Death Experiencers a place to share. It is a study by those who have first-hand experiential knowledge of near death experiences. Near death experiences teach us thoughtful living, and show life continues after death. There are over 300 near death experiences posted on this site.

Reading Near Death Experiences may be beneficial to many people, not just those concerned with death. They may bring hope and encouragement to those who seek purpose and meaning in life; those who feel unloved and lonely; those who are experiencing tragedy or illness, those seeking an explanation of our existence.

NOTICE: While there are no guarantees of any kind, this information about Near Death Experiences can be life-changing. Reading the Near Death Experiences material herein could change your perspective of life and your personality. If you continue into this website you are thereby acknowledging this fact and accepting full responsibility therefor.

This Near Death Experience site was started on November 10, 1997.